NEW AUTHORIZED DEALER
ByMARINA DE BOURBONFOR WOMEN
Royal Marina Diamond Perfume by Marina De Bourbon, Precious like a princess and enchanting like a queen, royal marina diamond is a captivating perfume with an alluring scent. Princesse marina de bourbon paris? feminine fragrance embraces its wearer with a sweet narcotic that embraces with an enchanting sophistication fit for royalty. Royal marina diamond comes in a simple circular bottle with an elaborate silver stopper featuring the fleur de lys sigil, a symbol of the french royal family. Thebottle is packaged in a lavish golden box. This crown jewel of a perfume boasts a super sweet smell that swirls a room with its irresistibly enticing whiff. Its oriental pyramid of notes is topped by two succulent fruits ? the acai berry and luminous grapefruit. This duo of sweet and sour interplay to produce a nonlinear scent that is unique and hard to define. Royal marina diamond?s middle notes are composed of iris, tonka beans, and sambac jasmine. This floral blend adds polish and class to the refined perfume. In the base notes of the scent is a glace synthesis of vanilla, fruity musk, and copaiba wood that provide an earthy sweet foundation to royal marina. All notes come crashing together into an amalgam of notes before producing a polished elixir filled with finesse and sensual supremacy that makes any woman feel like a queen. The royal perfume castle of princesse marina de bourbon specializes in glamorous fragrances that evoke a monarchial vibe. The namesake of the perfumery, princess marina, is an exquisite woman of grace and elegance. In 1994, the house?s first perfume was made and for over two decades, the marina de bourbon steadily conquered the fragrance scene with thousands of stores in more than 65 countries, providing quality scents to men and women of all backgrounds.All products are original, authentic name brands. We do not sell knockoffs or imitations.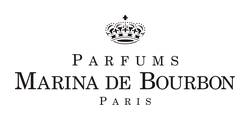 Princesse Marina De Bourbon perfumes and colognes

Princesse Marina de Bourbon is a French perfume house founded by Marina Gacry, whose husband is Prince Andr of Bourbon-Parma, a member of the ancient Bourbon of Parma Dynasty whose members ruled over France, Navarre, the Kingdom of Naples, the Duchy of Parma and still to this day over the throne of Spain.
Marina Gacry was born on September 5?the same birthday as Louis XIV. Surviving a difficult childhood, she would become in just a few years a very pretty young woman, determined to succeed and hungry for knowledge. In order to finance her studies, she accepted a position under the famous hairdresser Alexandre de Paris, becoming his main assistant.
As assistant to one of the most prominent hairstylists in Paris, Marina rubbed elbows with some of Europe's wealthiest, most powerful and famous names. Having conquered this social circle with her charm and intelligence, she was invited to St. Tropez. While living there, she met her Prince: Andr of the Bourbon of Parma Family. Together they returned to Paris and were eventually married in 1960.
Shortly after her marriage, Marina began her career as an Interior Designer, providing her clients with art objects for their homes and offices. Celebrities and European aristocrats relied on her for her impeccable taste.
Longing for a new creative outlet, Princesse Marina wished to create perfume and signed a license with Gilles Pommereau. To support her new venture, she opened her concept store in Paris, on the Boulevard de Courcelles, known throughout the world for its eclectic objects of decor and clothing lines. The Princesse can often be found in residence at the boutique, where she is happy to present her perfume line, along with other luxury products. Many fragrances in the line refer to royalty and elite status. Others pay homage to her French heritage. The first fragrance, women's scent Marina de Bourbon, was launched in 1994.
DesignerPrincesse Marina De Bourbonhas45perfumes in our fragrance base. The earliest edition was created in 1994 and the newest is from 2016.
All of our perfume, men's cologne, after shave, and body lotion, tst products are 100% authentic.