NEW AUTHORIZED DEALER
By MARINA DE BOURBON FOR WOMEN
Royal Marina Rubis Perfume by Marina De Bourbon, A soft and elegant fragrance, royal marina rubis by marina de bourbon is an intriguingly fruity, floral and warm scent for women. Introduced in 2013, royal marina rubis blends fruity guava and orange notes with light and bubbly mimosa tones, layered over subtle base notes of amber and musk. Inspired by french royalty and precious jewels, this luxurious fragrance is a perfect choice for a romantic dinner date or any time you want to feel trulyspecial.All products are original, authentic name brands. We do not sell knockoffs or imitations.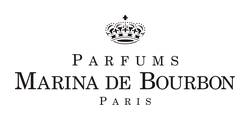 Princesse Marina De Bourbon perfumes and colognes
Country:France
Main activity:Fragrances

Princesse Marina de Bourbon is a French perfume house founded by Marina Gacry, whose husband is Prince Andr of Bourbon-Parma, a member of the ancient Bourbon of Parma Dynasty whose members ruled over France, Navarre, the Kingdom of Naples, the Duchy of Parma and still to this day over the throne of Spain.
Marina Gacry was born on September 5?the same birthday as Louis XIV. Surviving a difficult childhood, she would become in just a few years a very pretty young woman, determined to succeed and hungry for knowledge. In order to finance her studies, she accepted a position under the famous hairdresser Alexandre de Paris, becoming his main assistant.
As assistant to one of the most prominent hairstylists in Paris, Marina rubbed elbows with some of Europe's wealthiest, most powerful and famous names. Having conquered this social circle with her charm and intelligence, she was invited to St. Tropez. While living there, she met her Prince: Andr of the Bourbon of Parma Family. Together they returned to Paris and were eventually married in 1960.
Shortly after her marriage, Marina began her career as an Interior Designer, providing her clients with art objects for their homes and offices. Celebrities and European aristocrats relied on her for her impeccable taste.
Longing for a new creative outlet, Princesse Marina wished to create perfume and signed a license with Gilles Pommereau. To support her new venture, she opened her concept store in Paris, on the Boulevard de Courcelles, known throughout the world for its eclectic objects of decor and clothing lines. The Princesse can often be found in residence at the boutique, where she is happy to present her perfume line, along with other luxury products. Many fragrances in the line refer to royalty and elite status. Others pay homage to her French heritage. The first fragrance, women's scent Marina de Bourbon, was launched in 1994.
DesignerPrincesse Marina De Bourbonhas45perfumes in our fragrance base. The earliest edition was created in 1994 and the newest is from 2016.